In 1999, Dave Gilboa was doing research in Robert Full's integrative biology lab on the movement of cockroaches, spending hundreds of hours working with freezing cockroaches, putting iridescent paint on their legs, placing them on a cockroach treadmill, then applying their patterns of movement to the field of robotics. This even led to CRAM: a Compressible Robot with Articulated Mechanisms.
10 years later, Gilboa founded "The Most Innovative Company in the World" according to Fast Company.
So how did an undergrad Cal student torn between consulting and medical school go from cockroach researcher to founder of a $3 billion online hipster-glasses retail company called Warby Parker?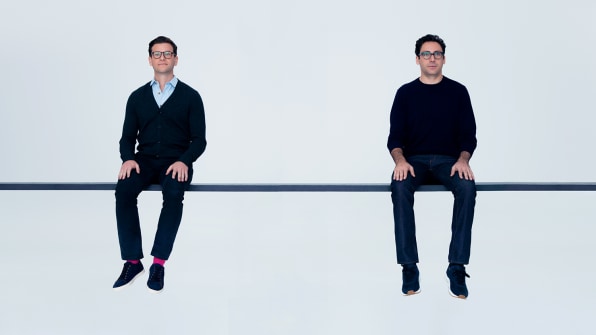 To answer this question, we'll need to back up a bit.
Dave Gilboa grew up as the son of two doctors, both the first in their families to go to college. They attributed their entire life's success to education, thus Dave's choice growing up was simple: "what kind of doctor should I become?"
Then he went to Cal. They had just released bio-engineering as a major, which led Gilboa to explore tech & engineering outside of the pre-med track. He learned that there were many ways to make the world better without being a practicing physician. Business was an avenue to do this.
By the time Gilboa became a sophomore in the Fall of '99, the world had fallen into a state of economic-political crisis not unlike our situation now. The dot-com bubble had burst, leaving behind a wake of failed startups in the valley and spurting an economic panic nation-wide. This moment made Gilboa reconsider the career path he was on.
A few friends recommended he go into consulting. "They said, 'hey you actually don't need to know anything to get these jobs. They're just looking for smart people, they have great training programs, and they're open to students who haven't taken any business classes'."
Gilboa began to apply & suddenly found himself interning for Bain & Co, a consulting company in Boston. He loved the work and the people and decided to take a full-time role after graduation.
After a 3 year stint at Bain, Gilboa wanted something new. Through a series of career moves & opportunities, he found himself with two options: (1) Move to Uganda and be the Country Director for the Clinton Foundation's Pediatric HIV initiative or (2) to move to New York & work in finance at Allen & Co where he would be a founding member of their healthcare initiative. Struggling to decide, he left it up to chance… literally. Gilboa closed his eyes & flipped a coin. He found himself at Allen & Co. in a few weeks, where he would eventually spend 3 more years working in investment banking.
Fast forward to his departure from Allen & Co. and at this point Gilboa was certain. "I didn't want to be in finance, I didn't want to be a banker, and after having worked in financial services for 4.5 years, I realized it was time to do something that I really wanted to do." Gilboa was intrigued by entrepreneurship, and ended up applying to U Penn in pursuit of their MBA program.
Just before starting the MBA, Gilboa took 6 months off to travel and backpack all around the world. He even traveled without a phone, an act which would now seem to many like abandoning a limb. Gilboa's intention was to travel around and see the world, then upon his return, to find some scientists at Penn & start helping them to commercialize their research. But then, in the middle of the trip, one simple but profound mistake occurred. A mistake that would lead to Apple's ranking as the #2nd most innovative company in the world in 2015.
He lost his glasses. His only pair.
"I returned back to school a frustrated consumer. Here I was returning in need of two things: a phone and a pair of glasses. The first was easy. I head over to the apple store and got the iPhone 3G, which at the time cost $200. It was incredible, it was just this magical device. Then I had to go buy a new pair of prescription glasses for $700. It just didn't make any sense to me.
The company was really born out of this confusion. How could it be that a piece of technology that has been around for 800 of years is going to cost several times more than a magical computer that could fit in my pocket."
As he started looking into why glasses were so expensive, he realized it really didn't add up. The pricing, the distribution, the access. He kept voicing his frustrations at school and met others with a similar story.
"The only logical conclusion we could reach about why there hadn't been more innovation in this category had been that there is just this massive concentration of power."
Gilboa found that there was this illusion of choice in the eyeglasses industry. As it turns out, Luxottica owned nearly every brand-name glasses company out there: Ray Bans, Armani Exchange, Dolce & Gabbana, Ralph Lauren, Michael Kors, Versace, etc. As a result, these glasses were being marked up 10-20x the cost of manufacturing.
"These were compelling reasons to us as to why we could do something differently."
At the same time, there were many platforms like Zappos, BlueNile, Diapers.com, all selling products online that you previously could not buy anywhere but in retail stores. Gilboa saw a clear opportunity to leverage the power of the internet to create a Direct to Consumer brand for glasses; to cut out the mark-ups, cut out the middle men, cut out distribution, and just sell. Directly to people who need glasses.
The founding team decided to pitch this idea at a Penn State business competition. The response they received was resounding "no, don't do this, it's a bad idea." Fortunately the team was able to build themselves back up and keep going.
It was after this competition that they'd found an investor willing to get them off the ground with a $120,000 investment. This cash enabled the team to actually purchase inventory, build a website, and literally pay a fashion publicist to get them into a fashion magazine. After all, they were 4 business students with no coding, design, or fashion experience.
Not two weeks later, the publicist calls with some news. "Hey, what are you guys doing? There's an issue of GQ coming out tomorrow and your glasses are featured. But I just looked at your website and it says 'coming soon…'"
They had thought the March issue meant it was released in March, but in PR this actually means mid-February. The team scrambled for the rest of the night all the way through to the morning, working with their one single developer to fix bugs as fast as possibility.
The next day the site was live, but barely. It was still riddled with bugs, issues, and fake-features that didn't work. Gilboa didn't tell any of his friends or family and made no announcements to anyone about the site going live. Yet later that day, during a business class, he received an email: "An order has been placed on your website." The first pair of Warby Parker glasses had been sold. Thank you GQ magazine.
Within an hour of receiving the first order, hundreds more had come through. The team was blown away. There were so many orders that it far surpassed the inventory that even had in stock. They had no "sold out" functionality, no wait list, nothing to prepare for this. The single developer, again putting the team on his back, coded up a waitlist to block orders from coming through.
By the end of the first day, there was a waitlist of 20,000 customers.
This was the birth of Warby Parker. Four business students had just disrupted a behemoth of an industry by putting the customer first and delivering timeless design through an online experience.