Product Managers play an increasingly critical role in modern technology companies. They are charged with ensuring an organization is laser focused on creating valuable and highly usable products and services, to address pain-points and unmet-needs for their target customers. In this course, students will learn essential Product Management skills by putting theory into practice, on a product or idea of your choosing. You will learn techniques to accelerate product success and avoid common mistakes. You will work in a team comprising of students from engineering, design, business and other backgrounds. This will simulate real-world cross-functional environments where people with different skills collaborate to build a successful product.
Learning Outcomes:
Experience a live development of a product within the context of a product development process
Learn common methods used in product management
Gain experience needed to work as product managers in real life environments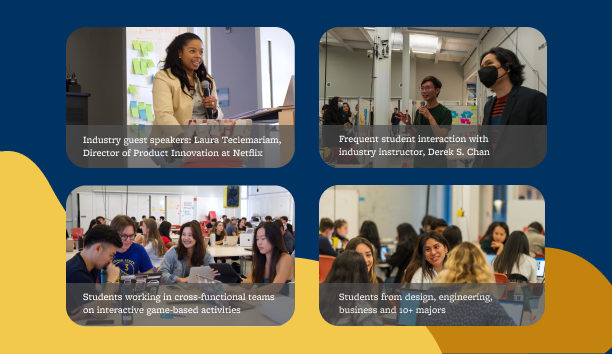 You don't need to waitlist to complete the application survey, so you can save your Phase 1 credit allocations for other classes while still applying for this one. If you are accepted into the course, you can enroll at that point.
Cal Students: Please apply with your CalCentral berkeley.edu email by 12/5/2022 or 1/5/2023 PST to receive enrollment decisions around mid-December 2022 and early-January 2023.
Global Students: Please also complete a Concurrent Enrollment Application to receive enrollment decisions in January 2023. For questions, please contact Ricardo Rodríguez I. (Global Programs Manager) at rrodriguezi@berkeley.edu.
VIDEO
Spring 2022 Top Project
Watch a pitch from Team SolTix that wants to empower people to do more with their tickets.
Derek S. Chan values empowering each other and has been an artificial intelligence (AI) product leader, helping Bill.com and Automation Anywhere reach their highest-ever customer satisfaction and/or revenue growth, plus #1 AP Automation 2020-21 and the IT World Award 2018. He was AI Product Director at Bill.com, now explores greater personal challenge and meaning through his own startup, and has taught students in popular SCET courses — Product Management and Data-X.
Whether or not AI is involved, Derek is passionate about mentoring people from diverse backgrounds with valuable product management skills, including validating the root of customer problems before, during, and after development. He is an alum of UC Berkeley's Master of Information and Data Science program, where he co-received the Hal R. Varian Award followed by an informal Google partnership, while also working at Yahoo! (which acquired BrightRoll).