Join over 600 engineers and technical professionals in the Bay Area who have earned their Certificate from UC Berkeley in Engineering Leadership.
Now more than ever, innovative companies require engineers who can be technical experts as well as strategic managers and directors. The next generation of leaders will need a unique combination of technical horsepower, entrepreneurial ability, and business judgment. ELPP readies technical professionals for the next step in their career by augmenting their analytical skills with proven business methodology and techniques. Our recently updated syllabus reflects today's challenges. New sessions help rising tech leaders innovate under adversity, enabling innovation that matters now. NEW  for ELPP Alumni - ELPP PLUS+ see more.
Register below to be notified of upcoming ELPP infosessions! 
Created for engineers by an engineer, the program builds off the Innovation Engineering framework from chief scientist and SCET founding director, Ikhlaq Sidhu. His proven platform for education utilizes theory, networking, and interactive practice to build a strong repertoire of skills in the technology leader.
Enables you to take your innovative ideas forward.
Helps leaders avoid making expensive mistakes.
Teaches leaders to align technology innovation with business objectives.
Prepares technical leaders for higher levels of responsibility within tech firms.
Provides critical skills for career development.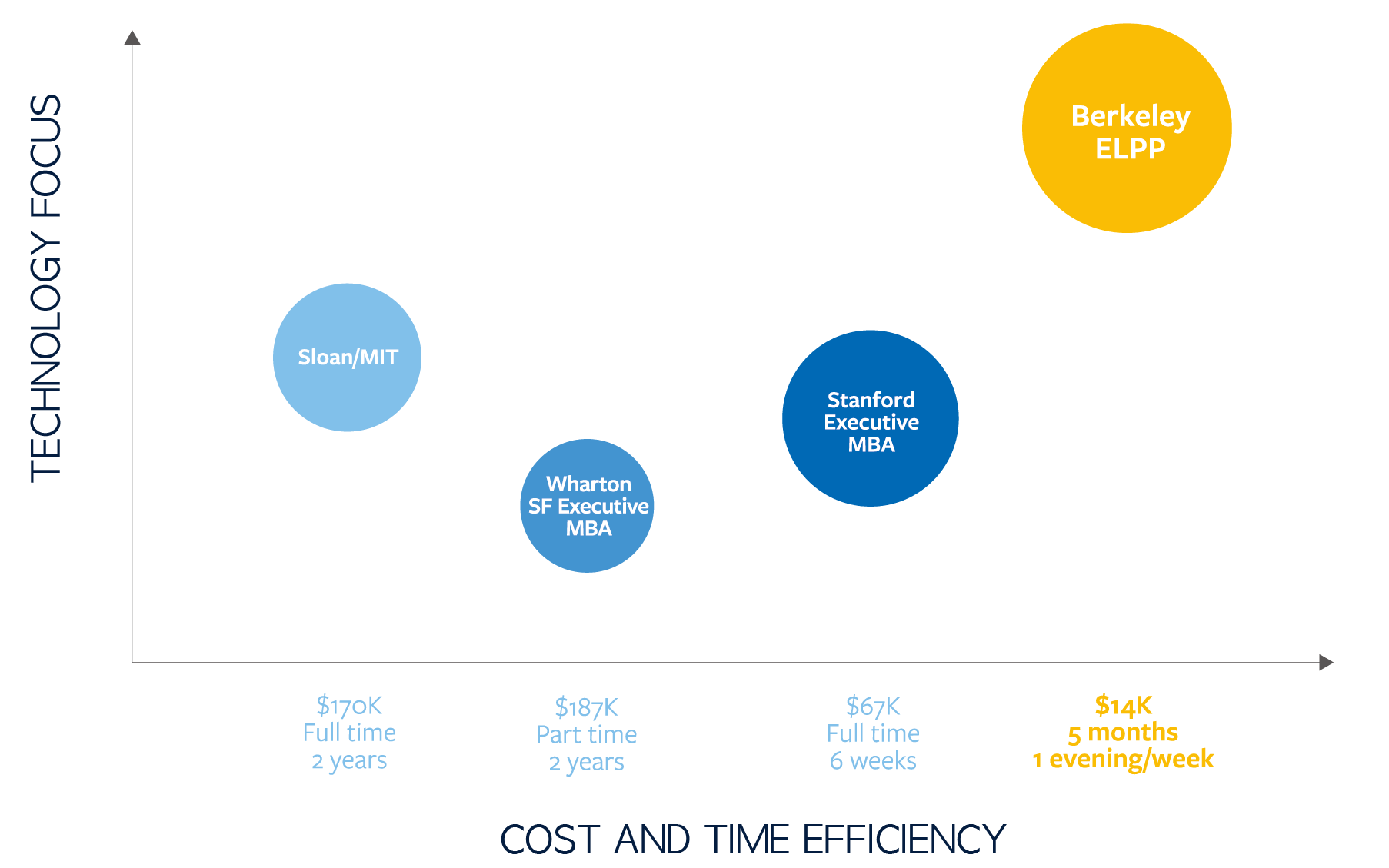 The Engineering Leadership Professional Program's Technology focus makes it time and cost effective for rising technical leaders in technology firms.
There is no such thing as a management-only track in Silicon Valley. For technical leaders, the MBA can often be too broad and possibly counter-productive for career development in technology firms. This program builds on the core skills of technical managers, engineers, and scientists. It is focused on technology firm situations and is condensed into only 4 1/2 months. The ELPP program offers career building skills that solve real problems in technology firms specifically for engineering directors, lead architects, technical product managers, business development leads, CTO office members, and other key technical staff.
$11,800 - ELPP- GLOBAL
Includes all materials, course reader and books and meals, as applicable. Excludes travel/lodging.
100% Online with classes in synchronous format
18+ classes over 4 months featuring leading Silicon Valley innovators and UC Berkeley faculty
Class times on Wednesday at 6pm - 9pm PT, + occassional Monday
Networking opportunities with industry icons and other professionals
Access to Sutardja Center exclusive webinars, alumni events and more

UC Berkeley Certificate in Engineering Leadership upon successful program completion
Technology Executives
Managers and Directors
Senior Engineers
Technical professionals considering a management role
Spring 2022: 

Classes Run Late Jan - Early June
Earn your Certificate in Engineering Leadership.

In-person, primarily at a location in Santa Clara/San Jose, when permitted by local authorities. 

Most classes will be held on Mondays 5:30-8:30pm PT.

22+ weekly in person sessions and 2 group projects
Online and in-person mentoring sessions

UC Berkeley-based closing session and graduation event.
Application deadline:


Dec 20, 2021
Fall 2022: 

TBD Aug - Dec 2022
Earn your Certificate in Engineering Leadership.

Online weekly 3-hour session

Classes will take place from 6-9pm PT on Wednesdays and the occasional Friday

18+ weekly online sessions and 1 group project

Group and individual mentoring sessions

Online graduation event and certificate ceremony
Application deadline:


July 16, 2022
Award winning faculty and Silicon Valley icons lead the program with a combination of case study, lecture, interactive exercises, self guided learning and networking. Our course modules cover: Opportunity Recognition, Operational Engineering, Leadership & Communication, intercorporate Project (with class peers) and for the ELPP - Silicon Valley program an intra-corporate project. In addition, participants have Sutardja Center network access to visiting keynote sessions, alumni events and Innovation that Matters roundtable online sessions.
The Engineering Leadership Professional Program guides students through two projects that combine the program's focus on the new technologies, the latest management and leadership skills, and innovation engineering.
Award-Winning UCB Faculty and Silicon Valley Industry Leader Speakers
These companies consistently sponsor rising engineers. Let us know if you'd like your company to be a sponsor and we'll work with you Learning/Development team.
"ELPP is a great way to gain multiple different perspectives outside of our core engineering worlds. It broadens ones horizons in a fun, fast paced program..." — 2020 ELPP Attendee
"The program allowed me to take a pause and focus on advancing my knowledge, innovative and leadership skillsets."
— 2019 ELPP Attendee
"It was amazing. My career took off and I've been afforded several great opportunities since."
— 2017 ELPP attendee
Frequently Asked Questions
Questions? Contact Vicky Howell at vhowell@berkeley.edu for more information. Companies may provide sponsorship for employees or employees may enroll directly and request reimbursement from their firm.