A New Paradigm for Technology Firm Leadership
Held in Silicon Valley, Each Spring Semester, & Administered by the the College of Engineering
There is no such thing as a management-only track in Silicon Valley. For technical leaders, the MBA can often be too broad and possibly counter-productive for career development in technology firms. This program builds on the core skills of technical managers, engineers, and scientists. It is focused on technology firm situations and is condensed into only 4 1/2 months. The ELPP program offers career building skills that solve real problems in technology firms specifically for engineering directors, lead architects, technical product managers, business development leads, CTO office members, and other key technical staff.
Enables you to take your innovative ideas forward.
Teaches leaders to align technology innovation with business objectives.
Prepares technical leaders for higher levels of responsibility within tech firms.
Helps leaders avoid making expensive mistakes.
Provides critical skills for career development.
Incredibly Effective for Engineering Leaders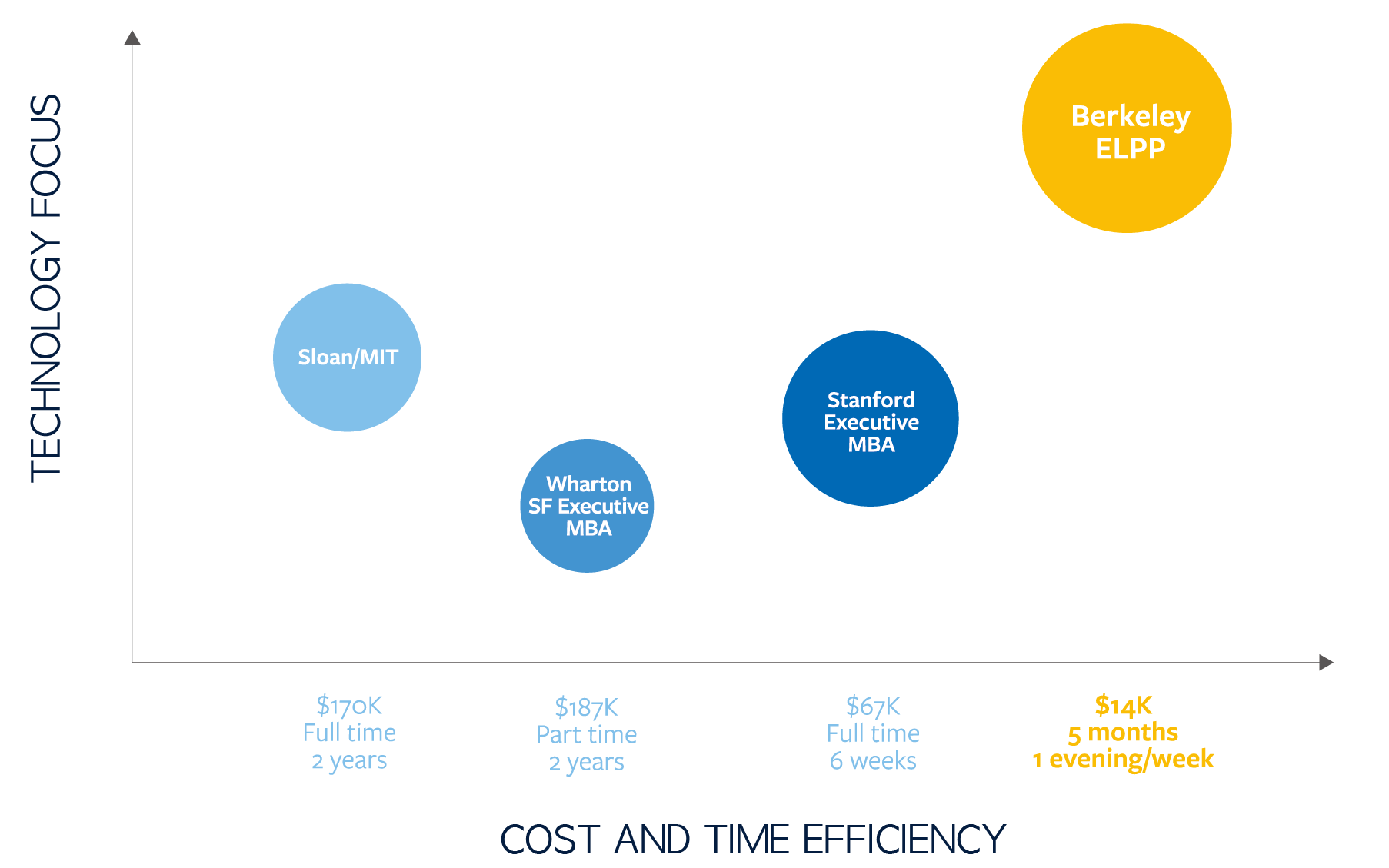 SCHEDULES: This program will next be offered in Spring 2018. Cohorts generally meet once per week on Monday (or Wednesday evening when Monday is a holiday) from 5:30 to 8:30 PM in Silicon Valley. The first session for Spring 2018 will be held January 17th and continue for an additional 21 sessions, including a graduation ceremony at UC Berkeley and a reception at the UC Berkeley Faculty Club on approximately June 14th. Limited space is available for the upcoming Spring 2018 session. Contact information for new candidates or interested partner firms is available at this link through our College of Engineering, Executive Education staff.
TUITION: The fee is $14,300 and includes all materials, course reader and books. The fee also covers a light buffet meal, served at 5:15 pm before each class.
LOCATION: Silicon Valley
Candidates are often recommended by the executive leadership within their firms.
Firms may contact the program to establish an institutional relationship.
Candidate may also apply directly, approximately 20% of seats are reserved for independent candidates.
"I loved the class, especially the accounting sessions….It was quite an eye opening class, especially for someone like me, pretty tightly entrenched in a building / improving mind-set….The case studies were simply awesome, and the mix of people attending the class was excellent: different companies, in diverse positions in the tech sector. That generated diverse views over the same problems and made the group exercises (and assignments) a learning and discovery experience. Simply awesome! Thank you!"
- Principal Engineer, Google
"I specifically enjoyed working on the group project. The opportunity to work on something out of my direct field of expertise with a group highly intelligent and motivated people was invaluable. I can say I found a few very good friends in the process. Sections on the presentation, negotiation, hiring, and career planning were very informative. Each session added a new tool to my toolbox and enabled me to better present my positions and respond effectively."
- Sr. R&D Manager, VMware
"I was very fortunate to have my manager have had taken this class taken before and he recommended that I should take this. I was coming with a very high expectations based on his assessment and I must say that the course has blown away my expectations. I appreciated Prof. Ikhlaq's insightful suggestions."
- Sr. Engineering Director, Yahoo!
"The guest speakers were amazing and passed on their wisdom crisply. The lean model, business canvas and value-net analysis had a lasting impression on me. In fact I am trying to adopt all three of them in my new product. Prof Sidhu has created an impressive curriculum that will help managers immensely."
- Chief Product Architect, Synopsys
Taught by UC Berkeley Faculty and Industry Leaders
Faculty Director: Prof. Ikhlaq Sidhu   Chief Scientist & Founding Director, Pantas and Ting Sutardja Center for Entrepreneurship & Technology
Associate Instructors: Victoria Howell & Jocelyn Weber Phipps  Co-Directors Executive Education,  Industry Fellows, Sutardja Center for Entrepreneurship & Technology
Steve Blank   Author, Berkeley and Stanford Faculty
Marc Tarpenning Co-Founder, Tesla
Curtis Carlson Former CEO, SRI
Inder Sidhu Former SVP, Cisco Systems
Charles Huang   Co-Founder, Guitar Hero
Jerry Fiddler   Founder and CEO, WindRiver
Margret Schmidt   VP Product Development, Intuit
Charlie Giancarlo   Former Chief Product Officer, Cisco; CEO PureStorage
Suneel Udpa   PhD, Accounting, Haas School of Business, UC Berkeley
Ram Krishnan   VP Operations, InvenSense; VP/GM Agilent FOPD
Holly Schroth   PhD, Social Psychology, Haas School of Business, UC Berkeley
Don Proctor   Former EVP, Cisco Systems
Cosmos Nicolaou   Former VP Engineering at Google, Head of Technology at Grail Bio
Cort Worthington   Haas Organization Behaviour Group
Frequently Asked Questions
Contact Jocelyn Weber (jweberphipps@berkeley.edu) for more information about how you and your company can participate in UC Berkeley's Engineering Leadership Professional Program.